So many good times spent with our fellow runners from all over the world in 2017. Even though we have many tours in this month of December, we take a little time at this end of the year to share some of the good memories that each tour gives us: three end of the year articles evoke some of these moments. The photos speak for themselves (with some text to comment on).
Here, at the end of August, a few strides of the visit with Melissa and Chris from Washington DC (Thanks Chris for the pictures!).
More simple, a little character awaits us when we return to the hotel: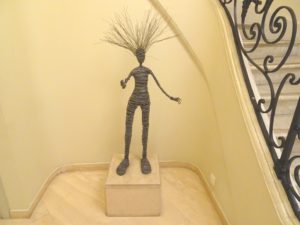 Merci Chris ! Merci Melissa !
If you too, you come to Paris, we will be very happy to run with you. Join us and discover Paris with authentic Parisians guides who always have tons of secrets to share with you. Enjoy an original private tour, tailor-made for you: