On a short business trip or for a longer stay with family or friends? How lucky! The capital has so many treasures. But when you arrive in Paris, it is difficult to know where to start…
TREAT YOURSELF TO AN UNFORGETTABLE VISIT!
Thanks to Paris Running Tours, you will not miss a thing in the capital! Visiting a city while running, is a means of combining pleasure and fitness: let yourself be shown around, discover or rediscover Paris and all its secrets, cover a distance which will make the most beautiful sites in the capital accessible in one trip!
In only a few hours, you can jog, discover the different aspects of the city and learn a lot of new things! And this, whatever your level, confirmed runner or beginner, we adapt to your pace!
---
Splendors of Paris
8KM (5mi)
Your customized tour: the best route from your residence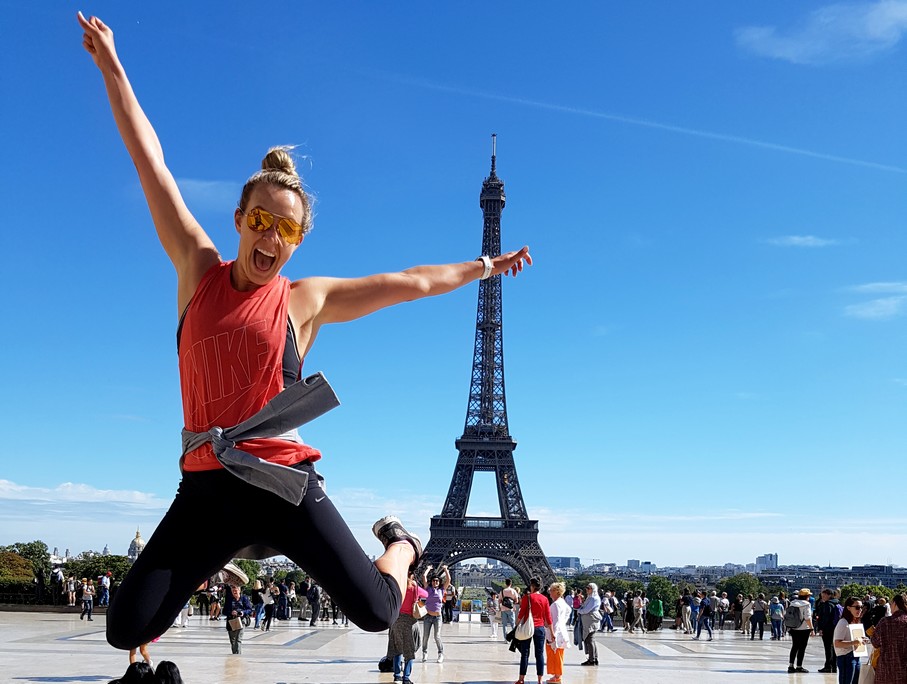 Sites you can see with this tour: Garnier Opera, La Bourse, covered passages, Royal Palace, Louvre, Tuileries, Concorde, Champs-Elysées, Petit and the Grand Palais, Trocadéro, Eiffel Tower, Quai Branly museum, banks of the Seine, Alexandre III bridge, Invalides, National Assembly, Orsay Museum, Vendôme square and many other magnificent locations! Do you wish to see a particular area? The guide will always adapt to your pace and to your wishes!
---
St Germain – Ile de la Cité – Latin Quarter
8KM (5Mi)
Your theme tour: immerse yourself in history of the "Cité" and "University"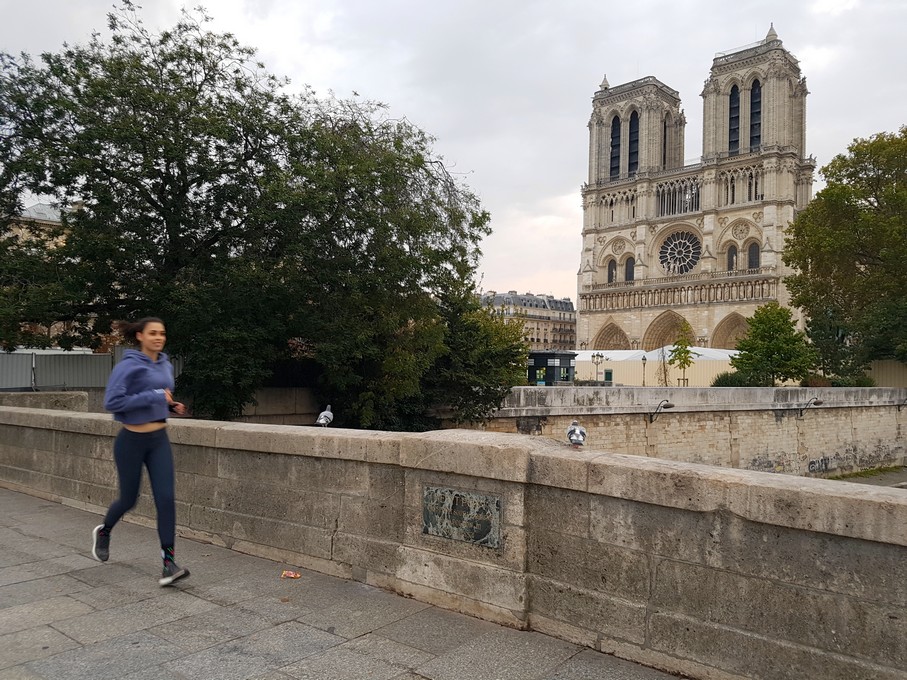 With this tour, we meet in the heart of the Latin Quarter to:
Discover the ancient Lutetia (the Gallo-Roman Paris), its thermal baths, its cardo maximus, its arenas as well as the Universities, the Pantheon, the medieval Paris with Cluny, the Ile de la Cité, Notre Dame, the Sainte Chapelle, Philippe Auguste's precinct and then the Place Dauphine, the Pont Neuf, the literary and artistic Paris in Saint-Germain des Prés with its famous cafés and the traces of famous authors, Hemingway, Joyce, Simone de Beauvoir and so many others without forgetting the magnificent Luxembourg Gardens… and full of curiosities and secrets that we will unveil throughout this exceptional tour.
Meeting point and end of the tour in the heart of the Latin Quarter.
---
French Republic and Places of Power
8KM (5Mi)
Your theme tour: places of power in Paris, past and present, "Parliament", Ministries, Embassies…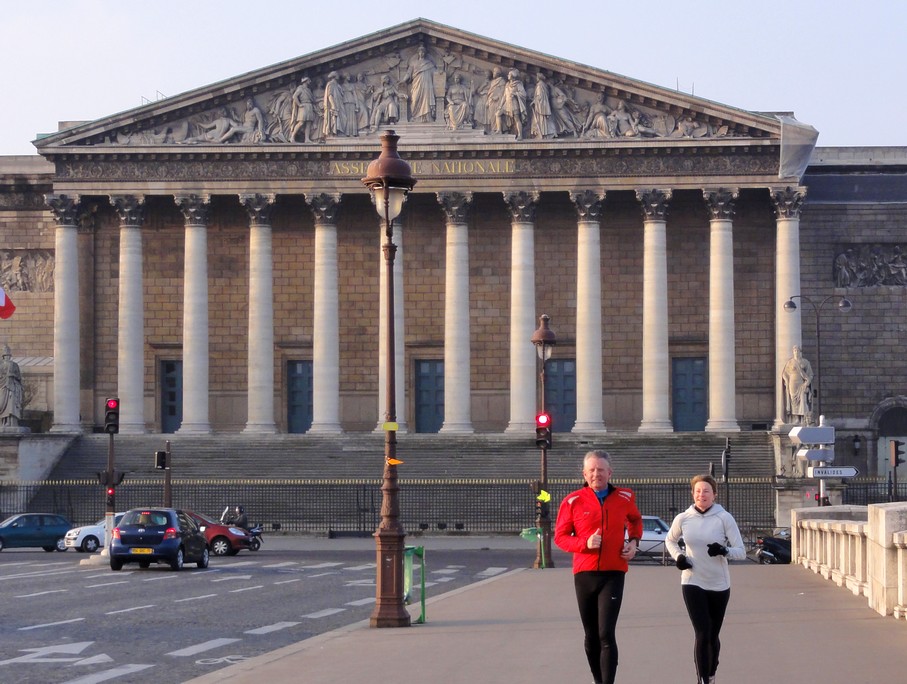 With this tour, we meet:
Different places of power, not only the representations of the French Republic, concentrated in Paris, but also of the past Royalty, Elysée Palace, Bourbon Palace, Senate, Ministries, Louvre Palace, City Hall, Tuileries Palace and other representative places such as major embassies… This unique route also presents many superb and historic sites, Place de la Concorde, Rodin Museum, Odeon Theatre, places of the Revolution, Institut de France, Pont des Arts…
Meeting point at the Champs Elysées and end of the tour at the Palais Royal.
---
Walls and fortifications
8KM (5Mi)
Your theme tour: discover the evolution of Paris with the different walls surrounding the capital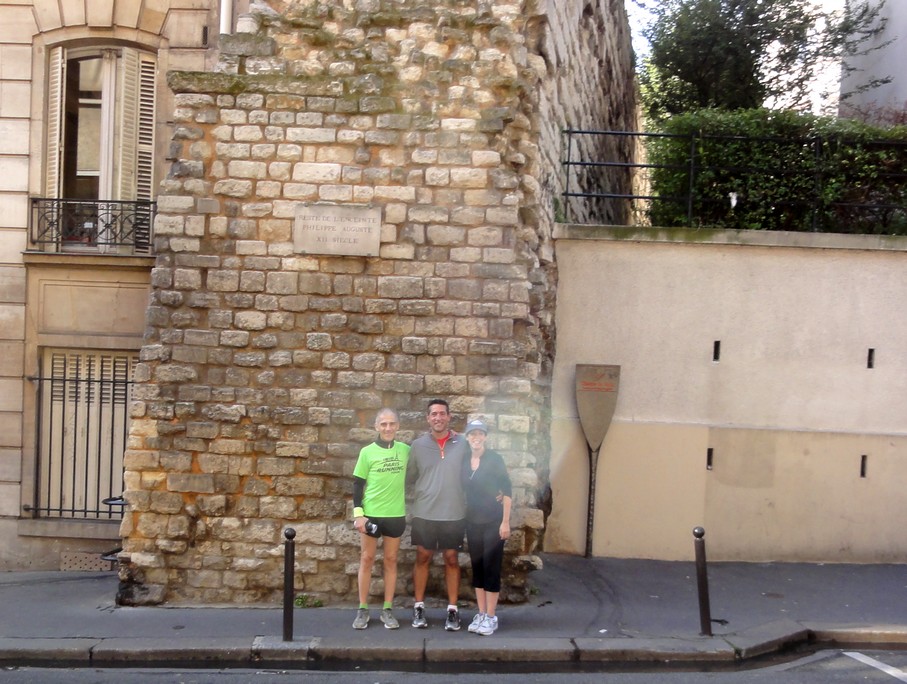 With this tour, we understand:
how Paris was built within walls and how these walls have shaped the 2000 years of the capital's history, whether for its urban planning, its social and festive life, its density, its trade flows and of course its defence. We will see and evoke these walls, from the Gallo-Roman enclosure to the fortifications of Thiers, via the well represented enclosure of Philippe Auguste that we discover along the way.
Meeting point in front of Notre Dame and end of the tour near the Palais Royal.
We organize a unique moment for your employees during your company meetings in Paris: a cultural and sporting visit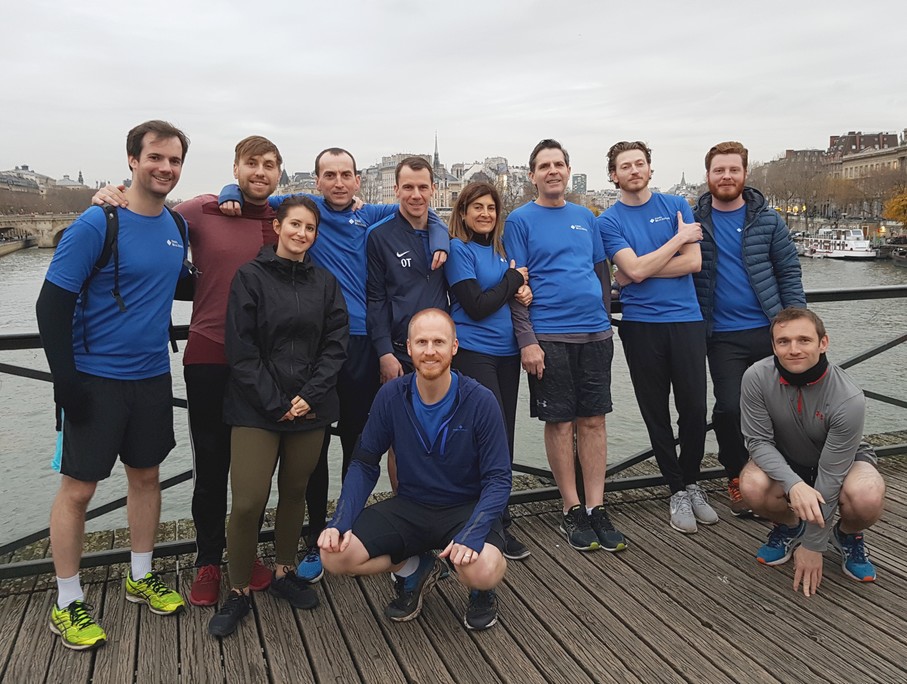 A memorable moment for your teams.
You are planning a seminar, a meeting, participation in a conference, a convention, an annual stay for your employees or any other corporate event in Paris. A running tour of Paris is ideal to federate a group, build team spirit, relax participants before the start or at the end of meetings, help build a network or even share a fun moment with clients or partners, "break the ice" and also to have the opportunity to visit the city simply (and not see only meeting rooms or the city only from a taxi).
We can create with you the ideal tour according to your wishes and constraints. It can for example be an early morning tour before the working day. We study all this with you and offer you a quote based on your wishes, possibilities and our established experience of "corporate" tours.
Make a drawing or a text thanks to your GPS track in Paris: take advantage of our experience and knowledge of Paris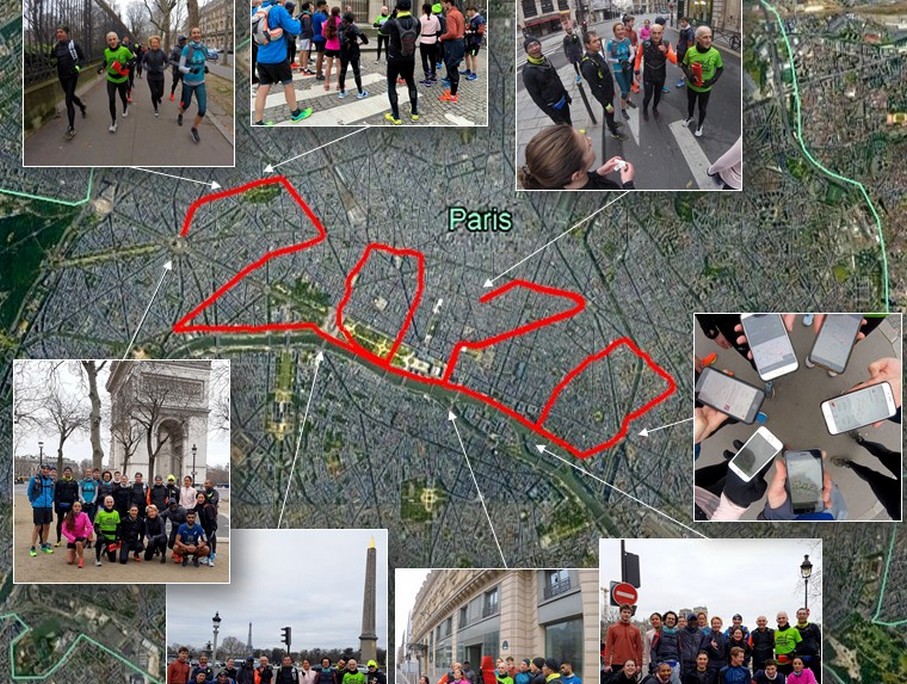 Create an original GPS track thanks to the route that we make for you according to your wishes:
Imagine a drawing or a word. The GPS track of your run will draw it in Paris. According to your request, we will prepare a route that we will do together in Paris. We have a long experience of GPS tracks thanks to our knowledge of the toponymy of Paris.
Some examples of our creations:
– Every year we celebrate the new year by writing the number of the year as here with 2017, 2018, 2020
– We drew a small dog, a running lady, a fish (April 1st, April's fool), a lily of the valley (May 1st), a lover (Valentine's Day), the Ship, symbol of Paris (see this TV report)
– we wrote "Paris" in Paris, etc.
So, you want to write the first name of someone close to you, surprise your running partner (by doing a tour without telling him at the start what is going to be done or drawn), draw a pattern that is important to you, the logo of your club or company, we study the feasibility and we propose a project.
Create something really original, an exceptional souvenir of your tour in Paris!
Build your tour with us according to your wishes: no limit to your imagination, we know how to propose you the answer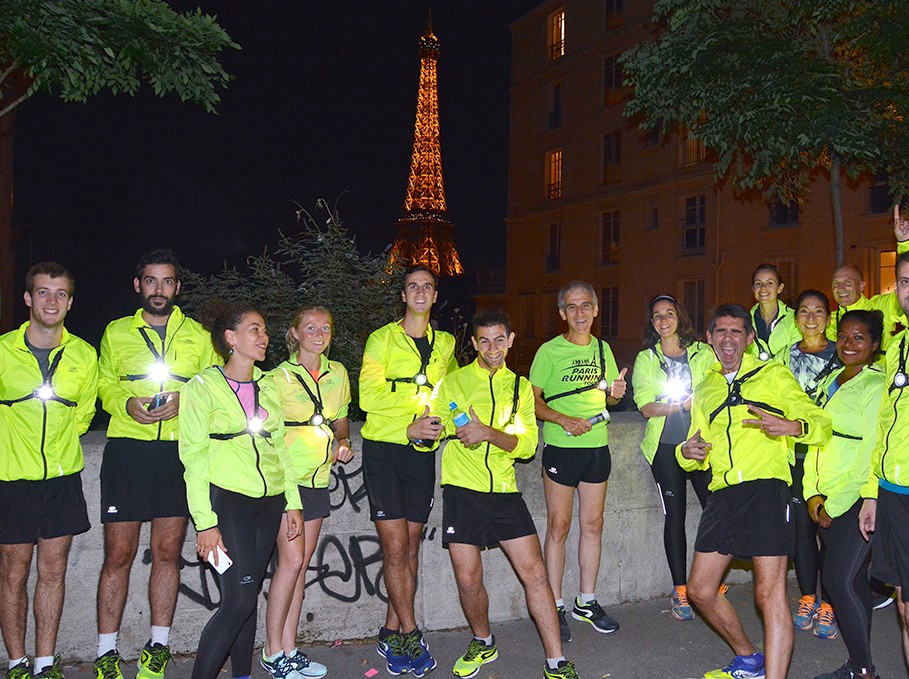 Create your tour with us. You would like, for example:
– do a tour with you and your young children as for example with young Ava and her parents .
– find Parisian film locations as with this tour we created for a fan of Taylor Swift,
– make your sports team discover Paris like here with an American cross-country team,
– accompany a promotional operation, such as the promotion of a decathlon running lamp,
– have a video or photo report of your tour made, as we did with a cameraman for our promotional video
To satisfy your desires, we are able to create all kinds of tours by exploiting the richness of Paris. Contact us and we will propose you a sports tour that fully meets your expectations.
Offer a Paris Running Tour

You have runners among your family, your colleagues, your friends, your clients?
You know they're planning to come to Paris for tourism or business.
Do you want to give them a great pleasure and offer them a gift that is different from the ordinary and will suit them perfectly? Offer them an exceptional running tour of Paris!
Treat yourself to a
Paris Running Tours T-Shirt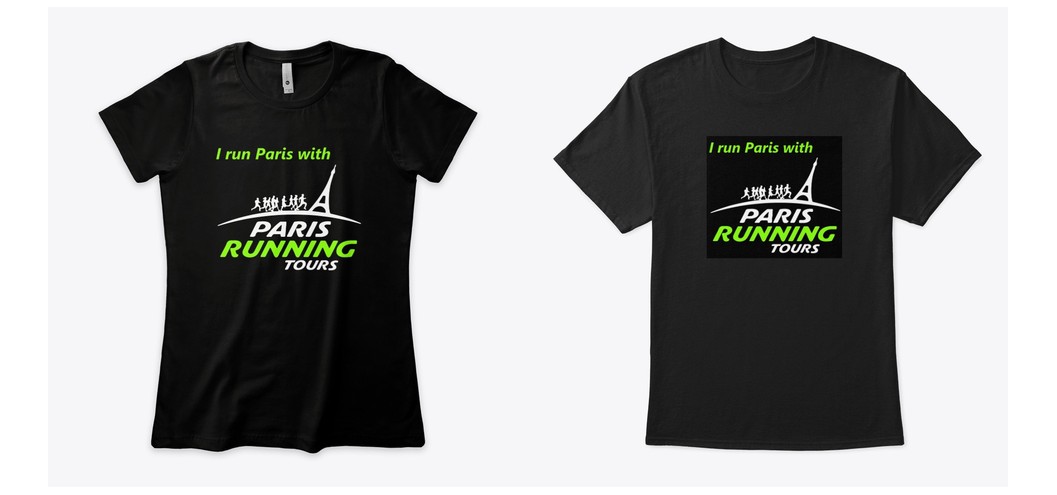 Keep a nice souvenir of your visit of Paris by offering you one or more Paris Running Tours T-Shirts : Women and Men T-Shirts, all sizes, different models (Classic, tank top)

All our tours are specially prepared for you. They are private, specifically designed, customized tours which depart from your Parisian residence or from a defined place in Paris. We choose the best routes in Paris. EACH TOUR IS UNIQUE!

After an email contact, your guide will create your customized route and print out several documents which you will have access to during the tour: routes, maps, photos or images of Paris.

The guide will come and pick you up at your place of residence in Paris, your hotel or building (or a defined location for thematic tours). The tour will also take you back to your residence. Before starting, he will make a brief presentation of Paris, its geography, its history and of course, your route!

All along the visit, the guide will comment on the different places that you are running past and will propose to stop at the places with the most history, like the Concorde square.

In an informal and friendly discussion while running with your guide, you will understand more about Paris, its history, its urban development, its artistic life and modern day Paris.

He will have a camera with him to capture the best moments of the tour. A photo of you in front of the Eiffel Tower? A video? A shot on the Alexandre III Bridge? Whatever you ask for!

You have a precise question about Paris? Your guide will be attentive and will answer your questions whenever you wish.

After the tour, the guide will send you an email with the photos, the itinerary and any interesting links so that you may keep lasting memories of your running tour!

Each guide is an experienced runner, a Parisian, impassioned about Paris and its history and he will share his knowledge of the city, its development, culture, arts, etc. throughout the visit. He can also inform you about Parisian competitions (see THE TEAM)