9:00 AM – With Molly and Saul from California, we crossed by running Paris from west to east to make an attractive tour of more than 16 km (10 miles). We made a small stop in front of the Louvre and, what a surprise, the Louvre Pyramid seems to have disappeared by leaving a grey halo!
Is it a photomontage? No, not at all, the pyramid was made invisible by the artist JR by a astonishing anamorphosis.
(if you want to know more about JR's works, go to this nice arts website at this page: https://www.artsy.net/artist/jr)
A look aside makes us understand a little better the trompe-l'œil effect: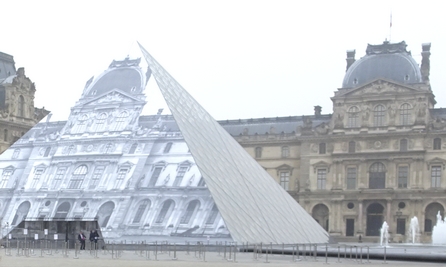 We began our race near the "Palais de la Découverte" to join quickly the river Seine at the level of the "Pont de l'Alma" (bridge of Alma). A important number of photographers had assembled near the Zouave, who has become again an attraction because of the important flood of the Seine, this June 2016:
By the way, let us take back the photography of the Bridge of the Alma and the Eiffel Tower, don't you notice anything new in this Parisian landscape? The new Russian Orthodox Church in Paris:Find the zouave and the usual level of the Seine here.
This flood is impressive and offers surprising views:
From the "Pont de l'Alma", we climb the avenue of President Wilson to join the hill of Chaillot and the beautiful views of the Eiffel Tower since the Trocadéro:
Later, we cross again the Seine by the bridge Alexandre III:
We alternate then the beautiful routes, right bank and left bank with the pleasure of running in the Latin Quarter in the street Rollin, lined with buildings of the XVIth and XVIIth centuries where lived, in particular, the philosophers Pascal and Descartes:
Merci Molly, merci Saul !
The route of the tour: