THE SEMI-MARATHON of Paris! International race.
Half a marathon to visit the east of Paris: Bois de Vincennes, Avenue Daumesnil, Quai des Célestins, Hôtel de Ville, Bastille, Faubourg Saint-Antoine…
This Sunday, March 5, 2017, the riders had to bravely face waterspouts and a cold wind. A good way to refresh muscles heated with the energy of running?
Still, many were chilled after the race, trying to change quickly in the rain…
I, in spite of that, kept a good memory of this race, a feeling of having braved the elements even if the chronometric result was not there.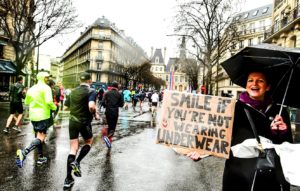 Previous editions: