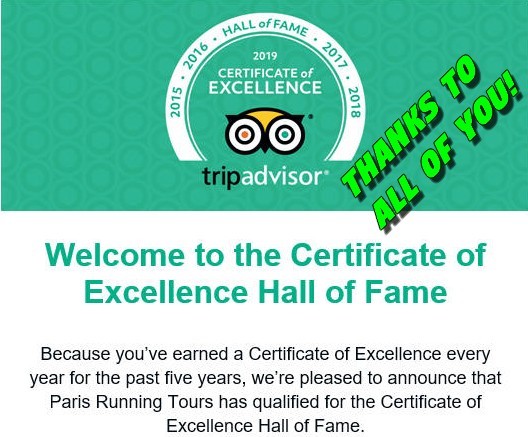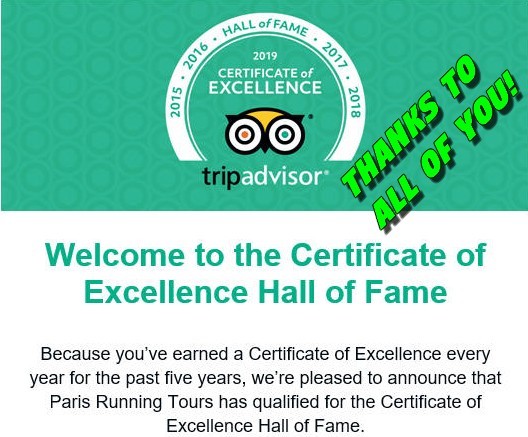 Our new Certificate of Excellence Hall of Fame, more than 5 years of TripAdvisor Certificate of Excellence!
It is a great satisfaction for us to know that you enjoyed our tours, had a good time with us and we thank you for telling us.
We share with you our passion for our city and we like to share with you its history, culture, anecdotes… for more than 11 years now.
You tell us a lot of things that go straight to our hearts:
"5 stars! I would have given 10 if i could! Grea

t run, great tour guide, great route! Highly recommended!"

"highlights of our trip!"

"by far the most memorable part of my vacation"

"I thoroughly enjoyed my running tour "

"Do not hesitate to book a running tour with Paris Running Tours – this is a class act, worth the expense, and the perfect way to orient active people to Paris!"

"Highly recommend Paris Running Tours!"

"We've done running tours in many cities, and Jean-Charles's was by far the best!"

"I am a Photographer, director, serious runner, world traveler and adventure junkie. I have had the opportunity and fortune to do a lot of wicked cool things. The Paris running tour I can honestly say is one of the most amazing things I've ever done. Ive been to Paris so many times but seeing it with Paris Running Tours was amazing and educational . It made me fall even more in love with Paris."

The whole Paris Running Tours team thanks you so much!
If you too, you come to Paris, we will be very happy to run with you. Join us and discover Paris with authentic Parisians guides who will take you on the best sightrunning routes in Paris and who always have tons of secrets to share with you: