Discover Paris while running with an impassioned Parisian guide!
The best running routes in Paris
x6 time WINNER of Trip Advisor's Certificate of Excellence! For an AUTHENTIC running tour of Paris, choose Paris Running Tours
Paris Running Tours is the first organizer of Running Tours in Paris.
Runners from all around the world have been visiting Paris with us since 2008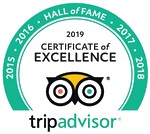 Our visitors say: "Class act", "Worth the expense", "Educational experience", "Done running tours in many cities, Paris Running Tours is by far the best!"
« We've been running with you since 2008 »
Paris Running Tours is proud to be part of Runningtours.net, international network of running tours operators.